2019 Freshwater Folk Festival Performers [Jump to schedule]
The lineup is set for the 15th annual Freshwater Folk Festival!
We have 4 wonderful groups this year: Mad Dog and Platypus, Shayar, Strum Sum band, and G.R.O.U.P. Read on for details….
Mad Dog and Platypus

  10:00am – 11:00am
"Mad Dog" David Lynch has been entertaining audiences in Greenbrier County for over thirty years, form stage to screen (large and small) to performing the National Anthem in front of 27,000 people at an NBA game. He has been called "The best known soul singer on the East Coast". Mad Dog performs as a featured vocalist with the West Virginia Jazz Orchestra.
Platypus was smuggled into the United States of America on board a pirate ship in the previous century. Trials and tribulations of modern life forced Platpus to settle on top of the mountain in rural West Virginia. Platypus enjoys a simple way of life dedicating most of his time to music, gardening, cats, and building pyramids. Mad Dog (David Lynch) has been performing in West Virginia for many years as an actor and musician. Recently this duo played at the Pretty Penny Café in Hillsboro.
Shayar

  11:00am – 1:00pm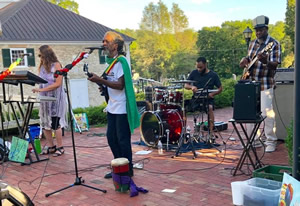 Jamaican-born singer and songwriter Shayar leads the reggae band Krooshal Force. Shayar's bands played in Jamacia in the 80s. As a rhythm guitarist, he toured the Caribbean, the United States, and Europe with Burning Spear, Gregory Isaacs, the Itals, and Anthony B. He has played in studio sessions with the Mighty Diamonds, Freddie McGregor, Leroy Stibbs, and many others. His original compositions drive Krooshal Force which he founded in the 80s. His set lists also include several classic reggae songs from the works of musicians such as Bob Marley..
Strum Sum band   1:00pm – 2:00pm
Strum Sum Band have played their mix of folk and country songs all around the county for several years so almost everyone knows about them. They have performed at the Freshwater Folk Festival before.
G.R.O.U.P. (ukulele band)  2:30 pm – 3:30pm
G.R.O.U.P. is a large ensemble of ukulele players and singers lead by Bob DuCharme of the Strum Sum band. G.R.O.U.P. stands for Greater Greenbrier River Optimistic Ukulele Players. They will include in their set list several folk songs that fit right in at a folk festival. The audience will sing along.
Schedule of performances:
All performances are at the hatchery amphitheater.
| | |
| --- | --- |
| 10:00 am – 11:00 am | Mad Dog and Platypus |
| 11:00 am – 1:00 pm | Shayar |
| 1:00 pm – 2:00 pm | Strum Sum band |
| 2:30 pm – 3:30 pm | G.R.O.U.P. (Ukulele players and singers) |